Browsing behaviour on Amazon has changed, and fast.  Amazon's shopping app with its 'Buy now' buttons and single swipe checkout has become so frictionless that it's now the preferred method of shopping.  The graphs shows mobile vs desktop browsing on Amazon.co.uk using aggregated data from our clients. They demonstrate the shift from July 2021 to July 2022 and the change is substantial – a swing of 12% towards mobile browsing, with mobile now accounting for almost two thirds of browsing activity.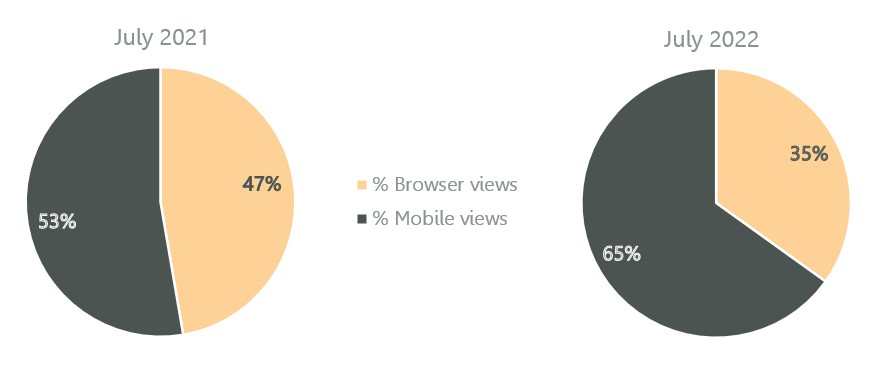 This shift in behaviour has implications for success strategies on Amazon.
product detail page implications
The way that the product detail page is constructed on the mobile app differs significantly from the desktop version.  An important difference is that the product bullet points often appear much further down the page than the desktop version.  At the top of the screen is the image (which is part of a carousel that you can scroll through) and the variations, together with price, promotions and delivery promise as usual.  You typically then scroll past ads, product suggestions, listing images, Brand Story and A+ before you see product description and bullet points.  This means if you're relying on these elements to deliver your key selling messages then your conversion will be affected.
Instead, consider incorporating some of those selling messages into your image carousel like this in this example
advertising implictions
There are also implications for the advertising.  A Sponsored Brand ad with a custom image takes up the majority of the screen with no other products fully visible.  This is a great advantage over a Sponsored Brand ad without a custom image.  The advantage is multiplied when that custom image brings your product alive or makes your selling points for you.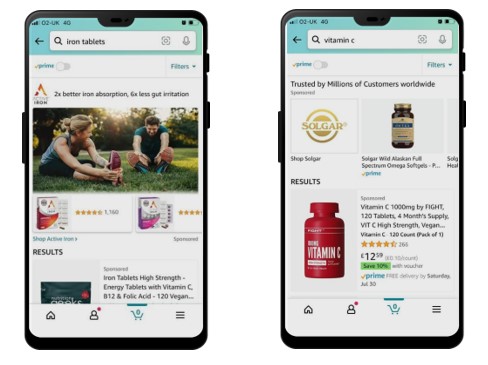 The other ad format that gains from the mobile vs desktop browsing on Amazon is the video ad.  Again, this ad format really owns the screen.  Video ads typically have higher click through rates than other ad formats. A well executed video ad viewed on the mobile app is likely to do even better as it's impossible to miss.
Video ads go across the full width of the screen and have the product summary underneath. A shopper watching a video ad can't see any other products.
mobile vs desktop browsing: summary
Most Amazon sellers work on desktops. However, it's worth reviewing all changes on the mobile app to ensure that they are working for mobile browsing. This applies equally to Product Detail Pages and Advertising. The shift from desktop to mobile browsing on Amazon looks set to continue and building in good practise now will yield benefits for the future.